Unboxing my new rice cooker: the Zojirushi NS-TSC10 [with video]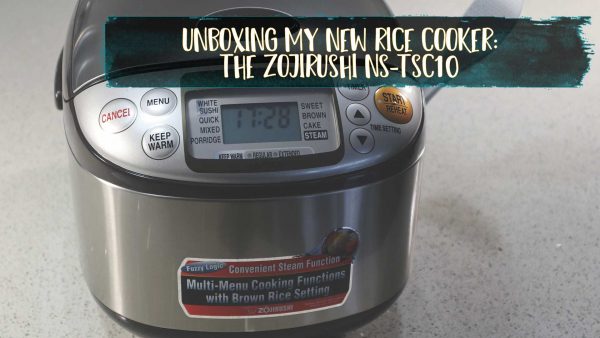 I used the same rice cooker for about a decade. I have to admit it was my most loyal appliance during these years. It survived all our many moves across Canada. The fact that it stayed almost intact through them all is a small miracle in itself!
However, when we sorted through my kitchen before our big move from Québec to British Columbia, I had to make a choice. Should I keep it until it completely dies on me… or should I throw it in order to buy a new one once in our new home? Even though I knew for a while I wanted to upgrade it, the price always made me choke… My mind was set on finally getting a Zoshirushi. If you do not know, this is a Japanese brand of appliances but especially known for their rice cookers.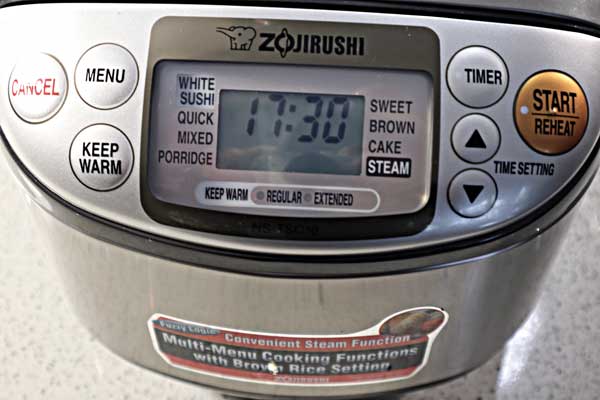 Because I am a Virgo and I research all the time about everything and anything… I spent some time reading and watching reviews of various rice cookers. I changed my mind once in store though and decided to go with the Zojirushi NS-TSC10. There is no need for one with too many functions because I own and use an Instant Pot already. My husband, Antho, convinced me I only needed the 5.5 cup model (this is the max quantity of uncooked rice), he was right for once 😀 And because it's not too big, I can live it on my counter at all times (and avoid back pain when it needs to be taken from the cupboards).
The video
I would say that this specific rice cooker is probably in the middle range part of the brand cookers. Some have more options, the more recent ones even have an induction heating system to ensure a better more consistant cooking procedure. Some have an umami function: this soaks and cooks the rice for longer periods of time so it will become even tastier. I didn't know until not long ago that some people in Japan do soak their rice before cooking it. Is that a well kept secret I was not in on? Did you know? Nonetheless, even without this, my rice cooker takes 60 minutes from the moment I press the "start" button to the moment it plays its music to tell me it's ready.

Cleaning it is easy as well, as the main parts are removable for a better cleanup. However, I chose not to use my dishwasher for the inner cooking pan this time.
Techical details
Micro computerized Fuzzy logic technology
Doubles as a steamer with its versatile Steam menu setting
Easy-to-clean clear coated stainless steel exterior
Automatic keep warm, extended keep warm and reheating cycle
Delay timer (2 settings)
Menu settings include: white/sushi, mixed, porridge, sweet, brown, cake, steam and quick cooking
Comes with a dose goblet, a spatula and a spatula holder.
Retractable power cord.
Do you have a rice cooker at home? Do you simply use it for rice or are you more adventurous with it?
---
---