My favourite japanese grocery shop in Vancouver: Fujiya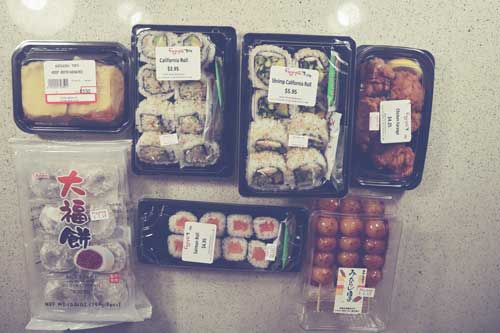 Fujiya is well known in the local foodie community. This quite small Japanese grocery store also offers a catering service and fresh meals made on site. You can find a very nice variety of bento boxes, several types of donburi, fried food such as chicken karaage/takoyaki and more. The range of sushi they offer is great as well. Plus, the quality is simply amazing; especially for these prices.

Honestly, because the products are imported, I am very thankful for the Google Lens tool on my phone. Thanks to it, I can easily translate labels that are in Japanese.

The place is often packed with customers and if you are willing to purchase some of their ready-to-eat meals, I would advise you not to go too late in the day. This way, you can enjoy the full range of what they have to offer.
A little backstory
Fujiya was opened by Japanese-Canadian Shigeru Hirai. He and his wife first opened a Japanese restaurant called Maneki Japanese Restaurant. Their restaurant was one of the first in Vancouver to serve in tatami rooms.
In 1977, they wanted to offer more to their customers and decided to open a grocery shop selling imported Japanese goods: Fujiya was born on Powell Street.
In 1989, the Fujiya store in Richmond opened; then the one in Victoria in 1991. In 1994, the main Vancouver location moved to its current spot on Clark Drive and Venables Street. Finally, the Downtown takeout store opened in 1998.
Where to find them
Fujiya Vancouver
912 Clark Dr, Vancouver, BC
www.fujiya.ca
Fujiya Downtown (Inside Bentall Mall)
#112 – 1050 W Pender St
Fujiya Richmond

3086 St Edwards Dr #113, Richmond, BC
---
---